Welcome to our official website.
We Are South Carolina's Exclusive Dealer for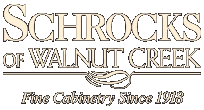 Reynolds Cabinet & Carpentry, Inc. has produced fine custom cabinetry for over 25 years, and our line of cabinetry has just become better than ever, as a dealer for Schrock's of Walnut Creek, a Walnut Creek, Ohio, based company that has been in business for 90 years. As a dealer for Schrock's, we can provide you with a line of cabinetry that is unparalleled in quality. Not only are our cabinets custom-fitted and finished for your style and your budget, we can accommodate any project size with ease, and produce any extra millwork involved with your project. We are committed to providing a superior brand of carpentry work, and we believe that our work speaks for itself. Feel free to browse the site, look at our completed projects, and see for yourself the quality and craftsmanship displayed in all of our cabinetry and millwork.
Each piece of our cabinetry is fully customizable to your taste and is handcrafted for your home. We work with you and your contractor in our showroom to design your cabinetry, then visit your home to take precise measurements. The cabinets are then built and completely finished in our workrooms by expert craftsmen. Once delivered, we install your cabinetry piece by piece including necessary moldings and cornices to insure a perfect fit and finish.
PHOTOS/INFO VISIT SCHROCK'S SITE CONTACT US

If you would like to visit our showroom, we are located at:

Home Resource Center

4312 Alligator Road

Timmonsville, SC

We are open Monday - Friday from 8-5, and we would be glad to make a weekend or after-hour appointment with you to take a look at our showroom.

In addition, if you have any questions about our cabinets, our company, Schrock's of Walnut Creek, or a question regarding any aspect of our business or product, feel free to email the webmaster, Cody@reynoldscabinet.com. You can send an email conveniently by clicking the "Contact Us" link above.

Thank you for visiting our site. We appreciate you stopping by and taking a look at our photo gallery and reading about our cabinetry.